With the fulfillment capabilities of MacroFab, you can ship products stored with us to your customers quickly and easily. You can create fulfillment requests one at a time, or upload multiple requests in a single spreadsheet.
Getting Started
---
Once you have Products built and in Inventory with us, you can start creating fulfillment requests. To create or manage fulfillment requests, click on Inventory and then Manage Fulfillment in the top navigation bar.

There are four key states for fulfillment requests:
New fulfillment requests are ones that are currently being input or have not yet been approved. On the New tab is where you can create new fulfillment requests.
Queued fulfillment requests are ones that are awaiting payment. On the Queued tab, you can pay for, edit, and remove fulfillment requests.
In Progress fulfillment requests are those that have been ordered and paid for, but not yet shipped out. On the In Progress tab, you can see the fulfillment requests that are currently being shipped.
Completed fulfillment requests are those that have been shipped already.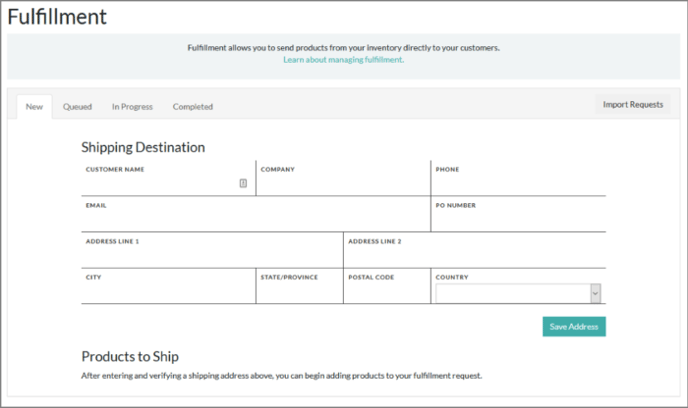 Only Products can be shipped to customers via fulfillment requests. Inventory Items that are not products lack complete information for shipping to customers. If you want to include inventory items in a shipment to a customer, combine them by creating a Final Electronic Assembly. For more information on the differences between Products and Standard Inventory Items, see the article The Difference Between Products and Other Inventory Items.
Creating A New Fulfillment Request
---
Step 1: Input Address
On the New tab, the default display provides the area to enter a new shipping address. Start by typing in complete shipping information for where the fulfillment will be shipped, and then hit the Save Address button.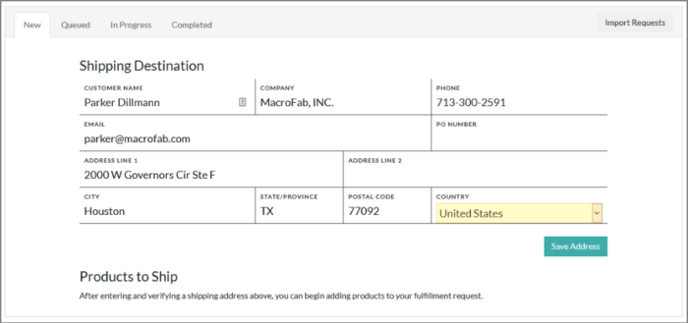 Step 2: Add Products
Now, you'll need to add some Products to the order. After the address has been saved, the Product Selector will appear below the Shipping Destination area.
Select a Product from the drop-down, enter a quantity in the provided box, and then use the + icon to add the Product to the shipment. To remove a Product from a shipment, use the – icon next to the product line.

You can come back and edit later. After you've saved the address, the request will appear in the Queued tab where you can come back to make changes or add additional Products.
Step 3: Select Shipping Method
Click on the Queued tab. On this screen, you will see all of your queued requests, along with quotes for each shipment. Use the drop-down under Shipping to select the appropriate shipping method.

Quotes and Pricing. We pass through shipping charges based on the sizes and weights you provide to us, and we charge a separate labor fee to pick, pack, and ship the order for you. For more information, see Fulfillment Costs.
Once you've selected the correct shipping method for each shipment, use the Ship All button to proceed to the order page. After you've paid for the fulfillment order, each request will appear in the In Progress tab until they have been shipped.
Missing a Shipping Method? If you're not seeing a shipping method you expect to be available for a particular shipment, it means that method is not available for that combination of destination/weight/size/contents.
Step 4: Order Your Fulfillment
With the shipping type selected for your fulfillment requests you can select the request using the check box on the left and then Order the fulfillment. This will take you to the order process where you will be able to make your payment.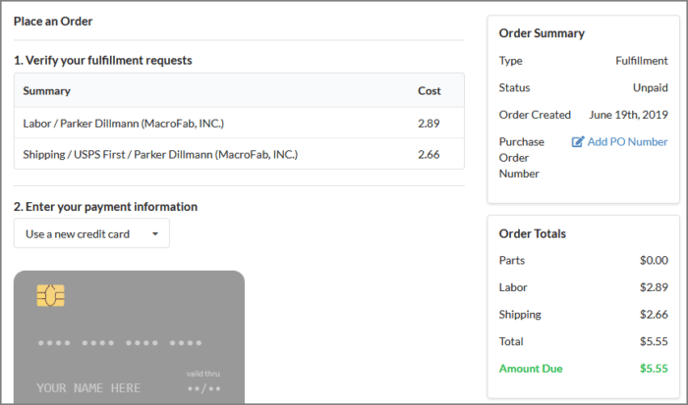 Not enough inventory. If you don't have enough inventory for a product to fulfill the request, you will not be able to approve the request and you will get the a Not Enough Inventory error message.
Bulk Shipments
---
Have a lot of shipments to send out? You can upload an entire spreadsheet of shipping requests at once. See the article Importing Multiple Fulfillment Requests Using a Spreadsheet for more information.
Have a Question about Fulfillment?
---
If you are having a problem getting your product fulfilled or have additional questions about creating a fulfillment request, ask our support team for a quick answer!