Fulfilling Orders with Lithium Ion Batteries
In April 2016, IATA announced a ban on transportation of lithium-ion batteries not included with equipment on passenger airplanes. As we regularly handle fulfillment requests for our customers, either devices that contain lithium-ion batteries or including rechargeable lithium-ion batteries as part of the overall shipment to customer, our staff have been trained to properly handle and correctly package and label such shipments.
The United States Postal Service (USPS) will not handle lithium-ion batteries, in or out of equipment, for most international destinations. We have a dangerous goods pre-approval contract with United Parcel Service (UPS) to handle international air shipping of large, or otherwise listed as dangerous goods, lithium-ion battery shipments.
To ensure that all regulatory requirements are properly met, we have labeling requirements for all incoming packages and limitations on outgoing shipment methods for lithium-ion batteries.
Incoming Shipment Labeling Requirements
---
All incoming lithium ion or lithium metal battery shipments to MacroFab (whether primary batteries or rechargeable) must be properly labeled. The following rules apply to all incoming shipments:
All external cartons must be marked with a correct lithium (ion|metal) shipping label (see below)
All dangerous goods incoming shipments must be correctly marked Cargo Aircraft Only, with a label approved by IATA
Individual packs of items within exterior cartons must clearly be labeled as containing lithium (ion|metal) batteries
Exterior carton must show no damage
Failure to meet these requirements may result in MacroFab refusing to receive a shipment. Failure to properly indicate that products contain lithium-ion batteries may result in additional charges to properly mark packages or refusal to handle fulfillment requests.
[caption id="attachment_979" align="aligncenter" width="300"]
Approved Lithium Ion Shipping Label[/caption]
Shipping via USPS
---
We can only send lithium-ion batteries, whether included in equipment or not, via ground methods (First Class, Priority) to continental US addresses. All international or air shipments of lithium ion batteries must go via UPS service. No shipment that meets the dangerous goods definition (see chart below) can be sent via USPS and must go via UPS.
Dangerous Goods Definition
---
The following chart from UPS shows what constitutes a dangerous goods shipment for lithium-ion batteries. For more details, see UPS International Lithium Battery Regulations.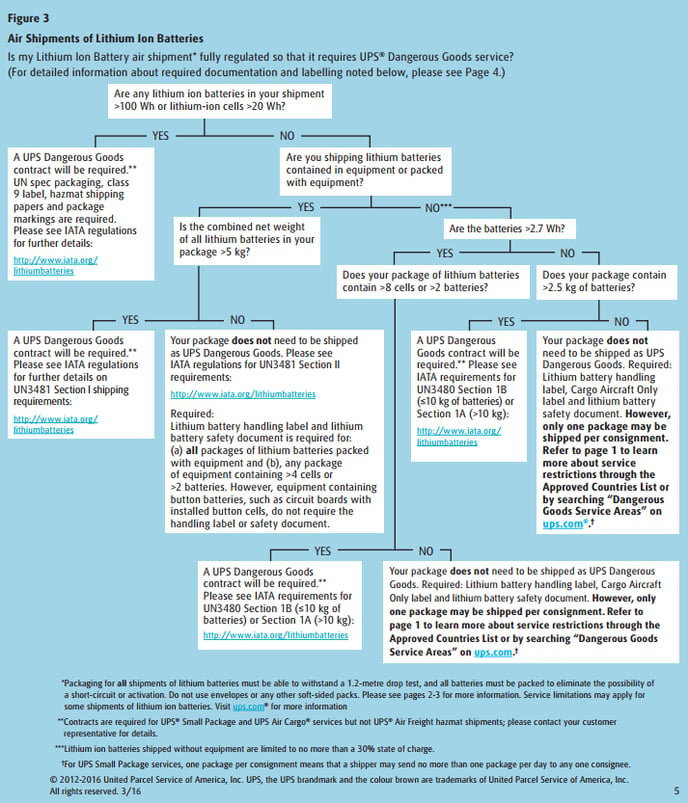 Limited Countries
---
Certain countries prohibit the receipt of dangerous goods or shipments of lithium ion or lithium metal batteries that are classified as dangerous goods. We cannot fulfill orders, via any method, that contain dangerous quantities of lithium batteries to a country that prohibits receipt of dangerous goods.
The current, up-to-date list can be found here: Dangerous Goods Service Areas.
Additional Questions about Lithium Batteries?
---
If you have any other questions that were not covered by this article please contact our support team.