How to Update Your PCB Design
If you choose to update the PCB design, first, please review our DRC Report and knowledge base: PCB Specifications and DRC
Once your PCB passes our specifications, follow these steps to update it in the MacroFab platform.

On the Platform, open the order to update.

Open the PCB to update.

In the browser address window, change last word of the URL to the PCB to "files" and press ENTER.
The platform lists all the files that have been processed.
4. First download the BOM.
NOTE: Keep a copy because the BOM could be overwritten later in this process when you upload new files. Downloaded BOM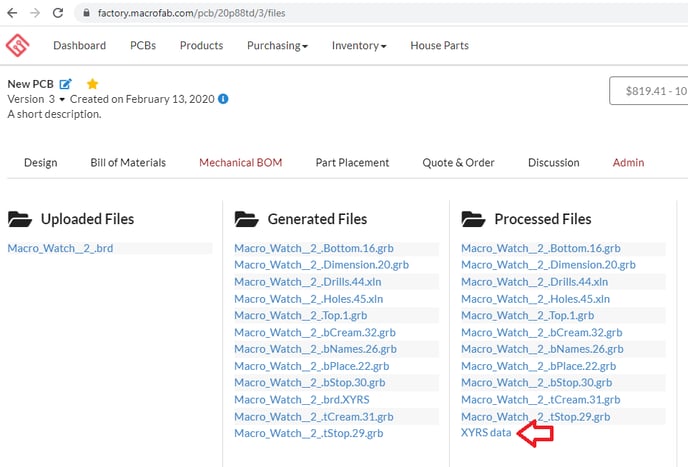 a. In the Processed Files column, click the XYRS data link to download the file.
b. Note any parts that are Consignment or Inventory, because those designations will not be carried over.
c. For more information about XYRS files see this article on file types.
5. Return to the PCB to update. From the drop-down menu on the top left corner, click new clone version to create a clone version.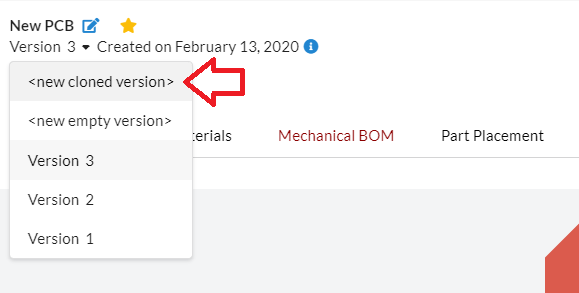 6. Add a new ODB++ file (or similar) to update the design. Load the updated design file back in the XYRS file location.
7. Upload the Bill of Materials file from step 4.
8. IMPORTANT! On the Bill of Materials tab, update necessary parts changed to Consignment or Inventory.

9. Refresh your browser.
10. Return to the Design tab and click Upload Files. Drag and drop the Gerber files, one at a time, into the platform to update the layers. This maintains all the existing data including the BOM.
IMPORTANT! Between adding layers, please allow the platform to process each new file.
11. Once processed, on the right column, both the new and old file display. Select and delete each old file.
12. Once you have updated the PCB, please send the PCB URL to your customer care representative who will update the Order Review ticket. Order Review will then run the DRC on the updated design.
13. Once Order Review has reviewed the updates to the new PCB and it has passed DRC, we will pull the new version into the current order. If any additional payment is required your customer care representative will reach out, if there is a credit due, your customer care representative will refund the amount to your card.