The Customer-Furnished Material Release
Overview
We're pleased to announce a more streamlined ordering experience within the MacroFab platform made possible by simplifying part-sourcing definition.
MacroFab has decoupled the burden of defining part-sourcing information within the Bill of Materials, empowering customers to configure and iterate on their designs faster than ever before.
Part sourcing-sourcing definition will now take place partially on the Quote & Order page with the remainder happening after an order has been placed.
This update to our platform reduces friction customers may experience during the design configuration process and ultimately enables further go-to-market agility.
BOM
On the BOM screen, we've added a new column Your Inventory Available. The values in this column reflect the total quantity of each part you have available for use in your MacroFab inventory.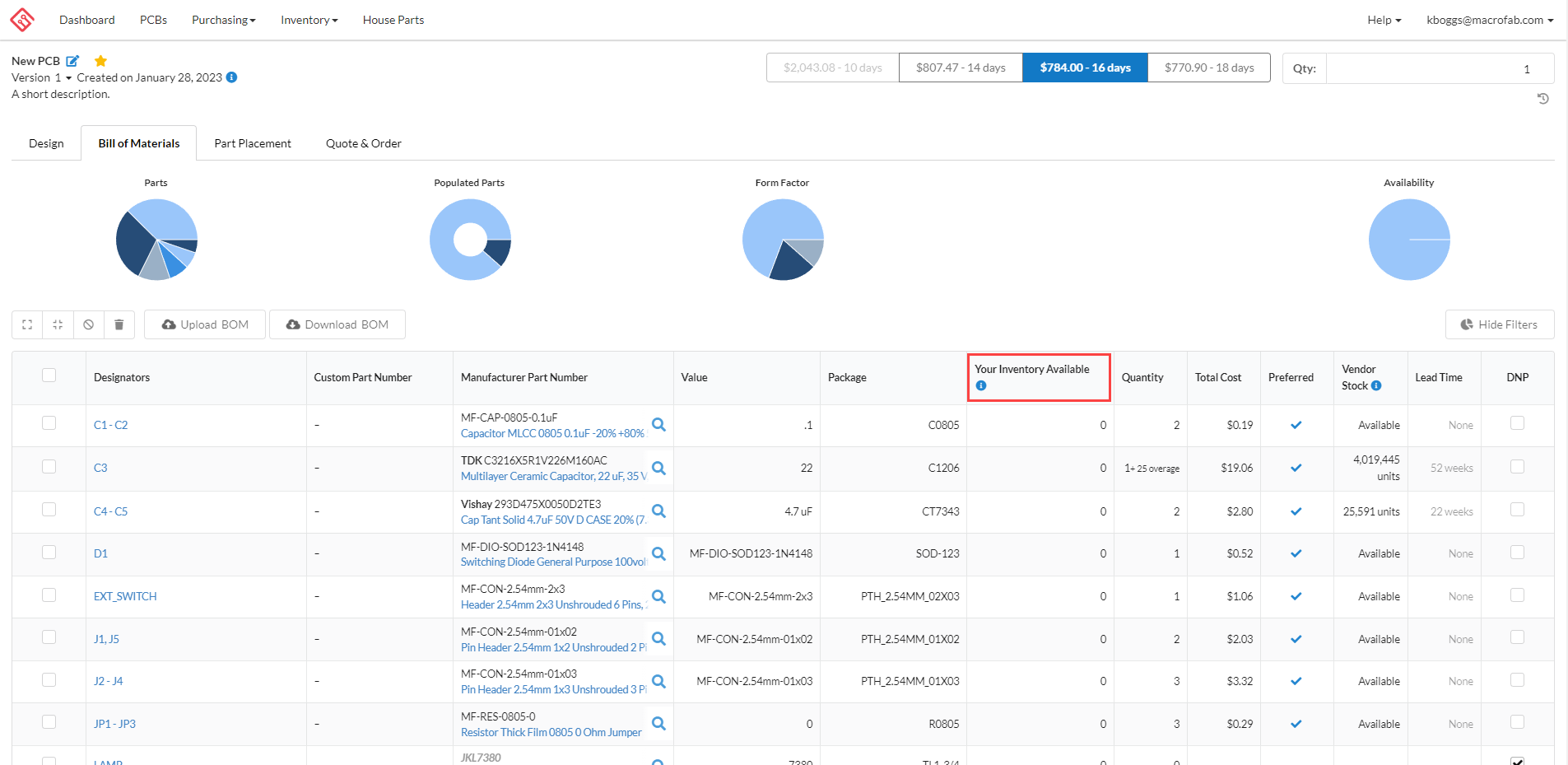 This new column is also present when expanding a BOM row and when searching for a component.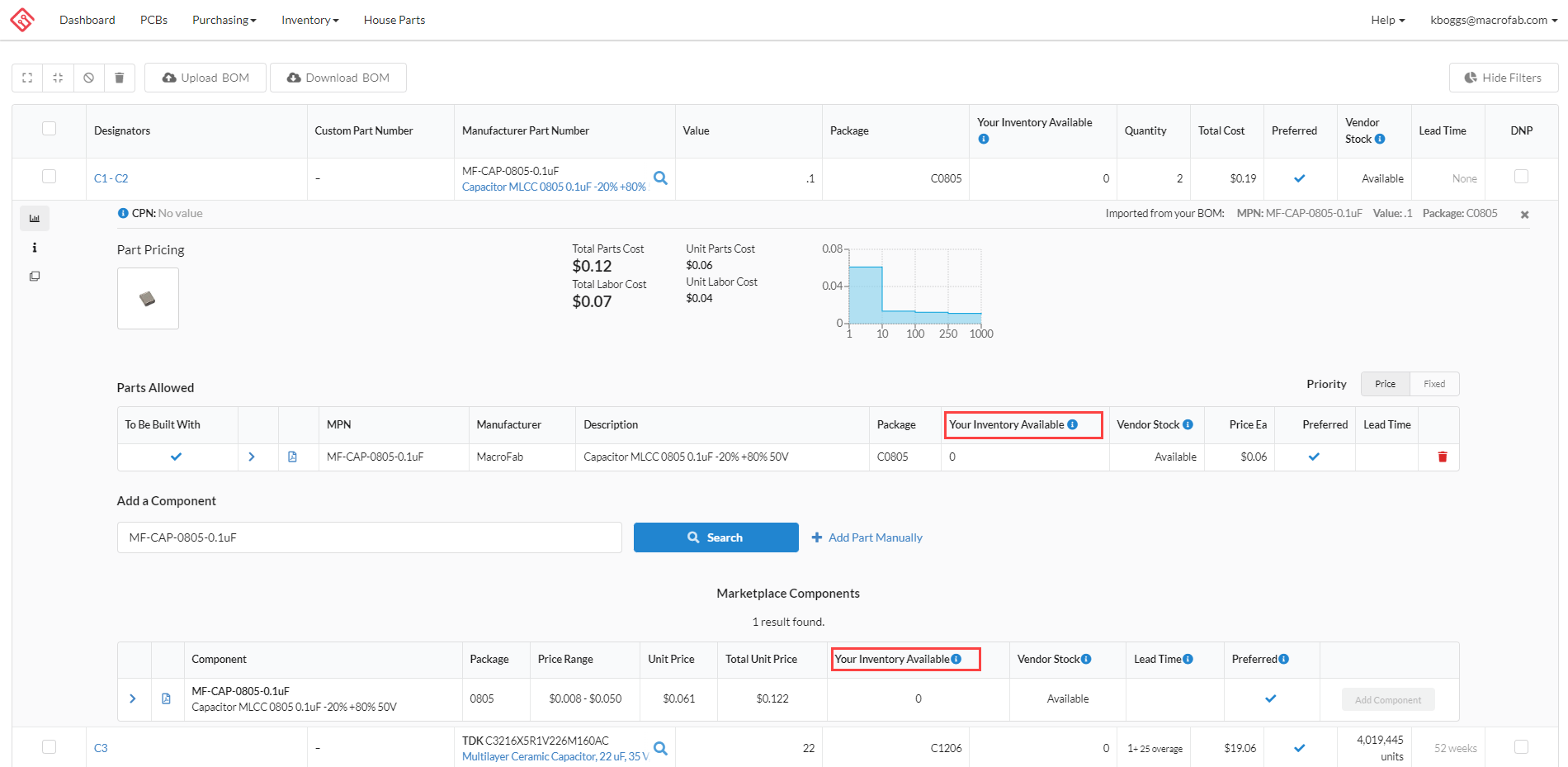 Quote & Order
The first step in defining part-sourcing information now exists on the Quote & Order page under the Components section.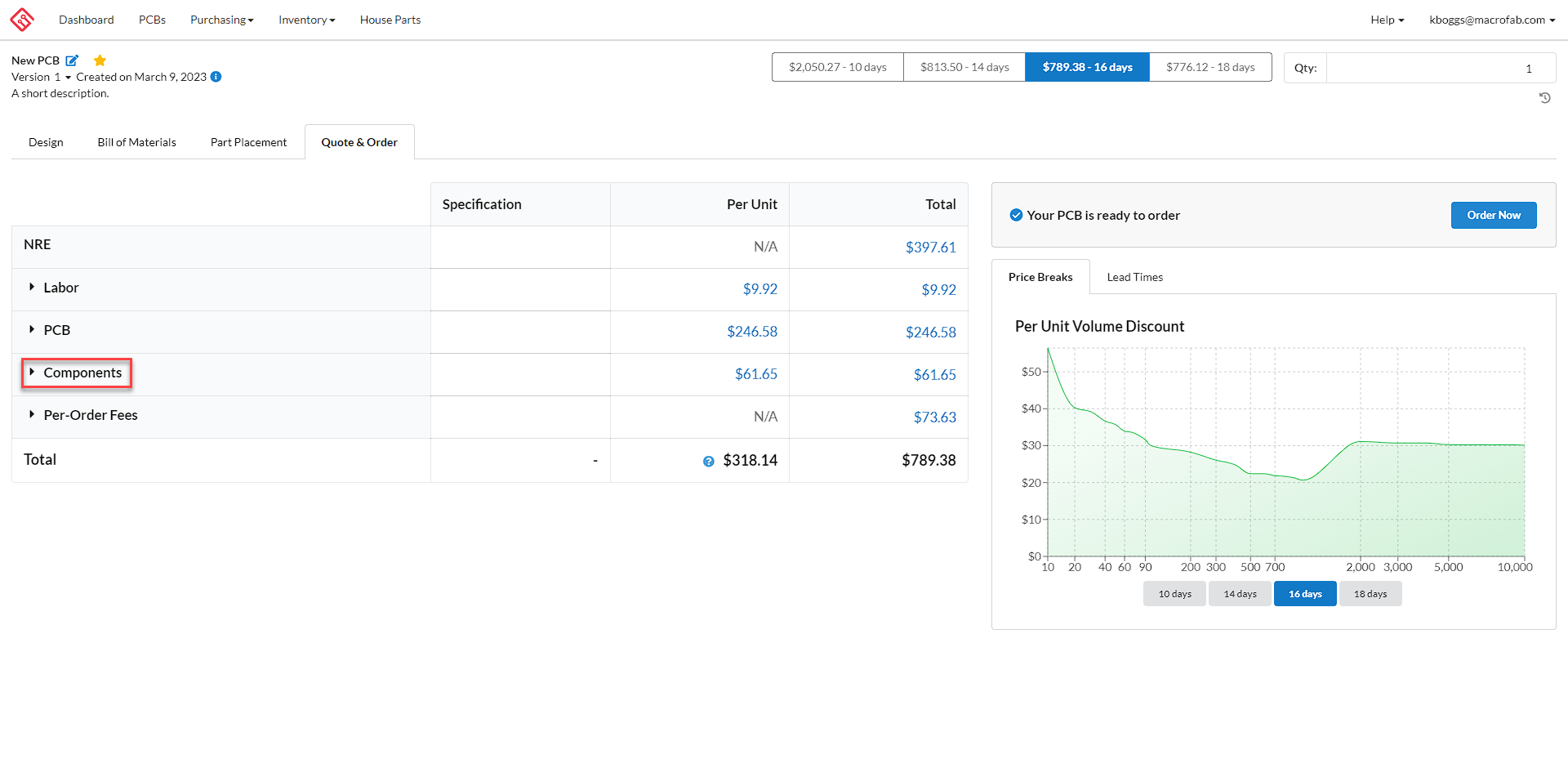 After expanding the Components section a table will be displayed with each part in the order.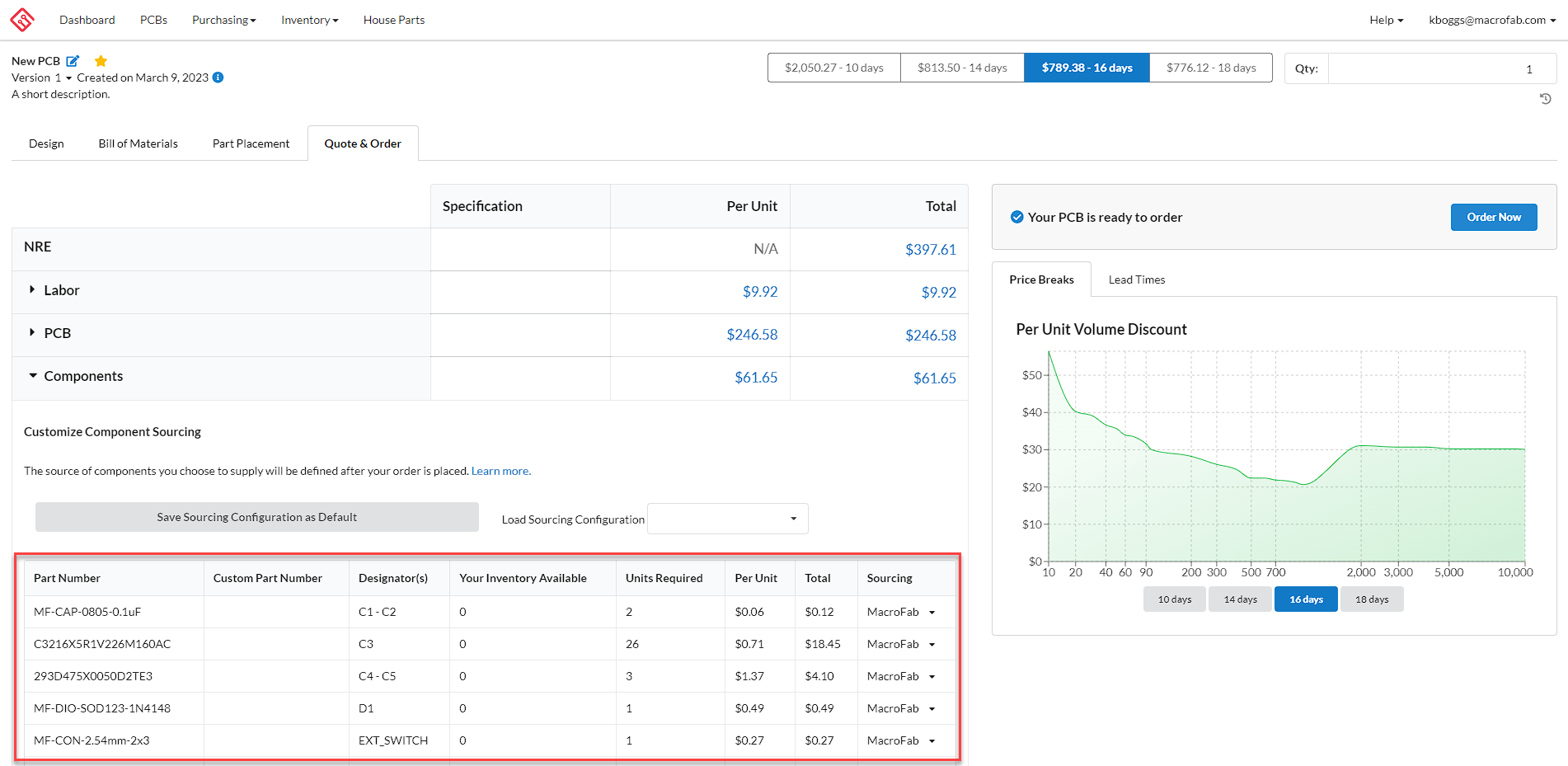 Each component in this table will need to have its source specified under the Sourcing column.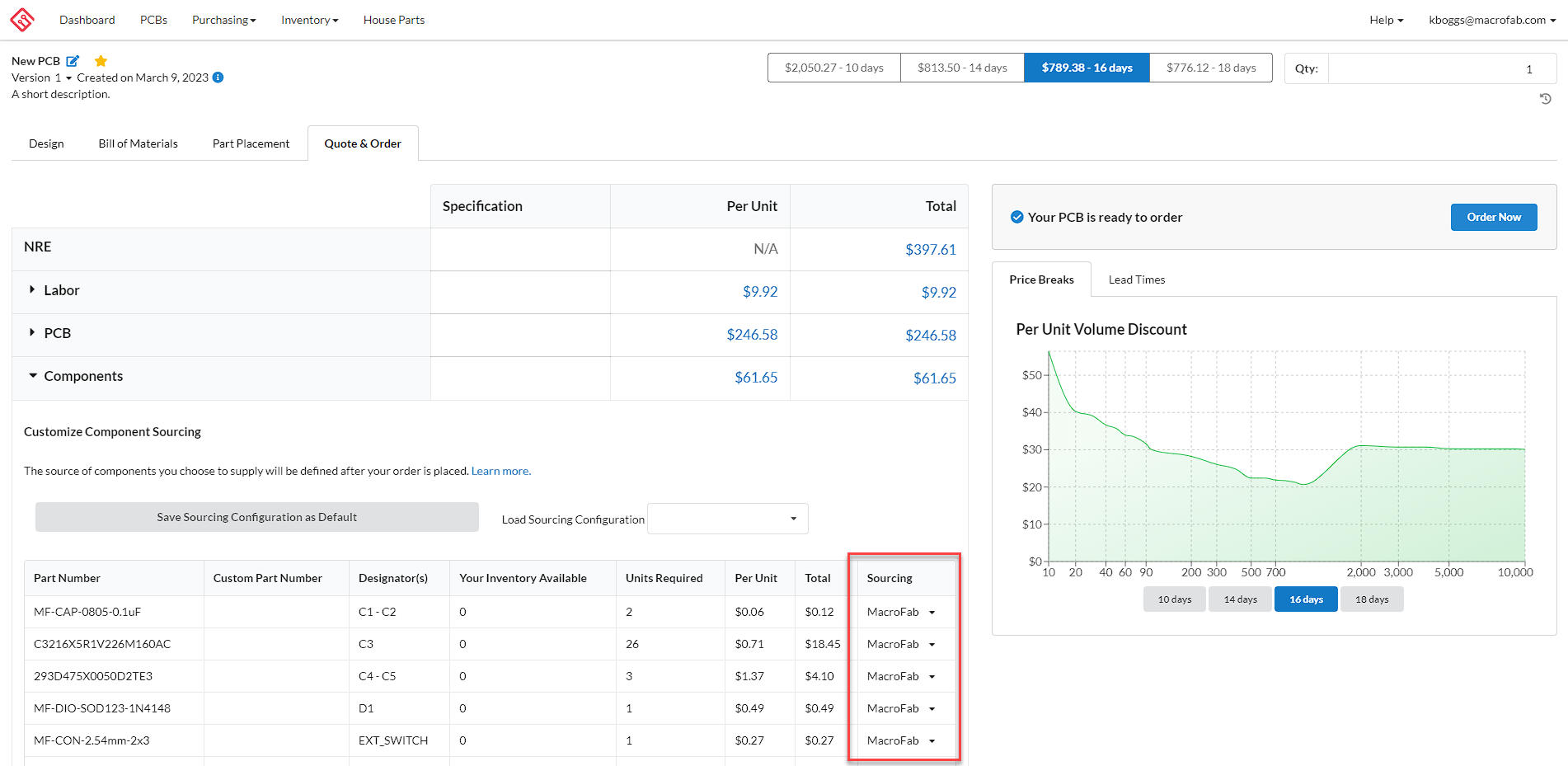 The two options to choose from are MacroFab, and Me.
Choose MacroFab if you would like to have that part sourced turnkey by MacroFab.
Choose Me if you would like to send (consign) the part to MacroFab or pull it from your MacroFab inventory.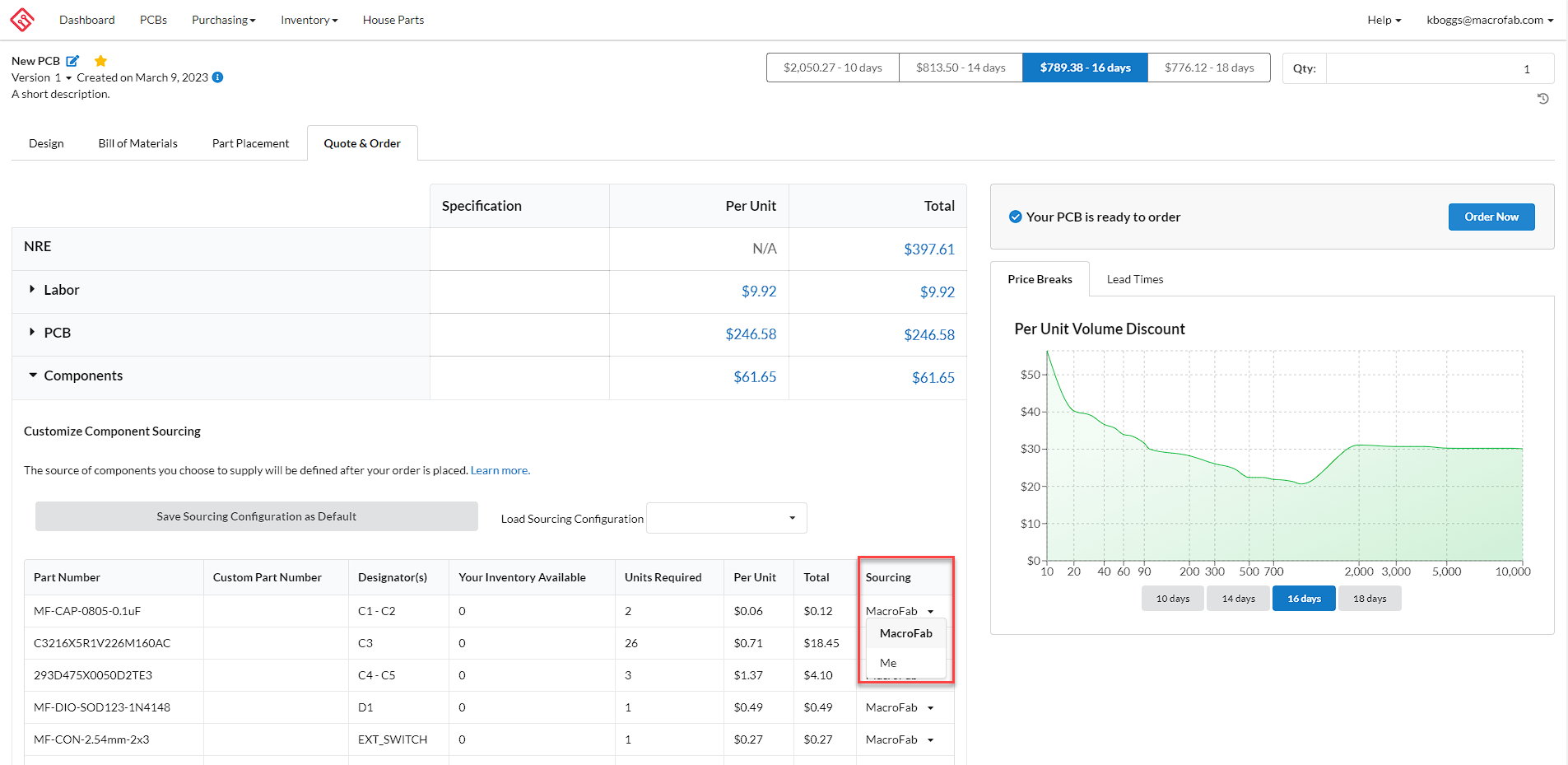 To save your part-sourcing selections for the next time a design is ordered simply select the Save Sourcing Configuration as Default button.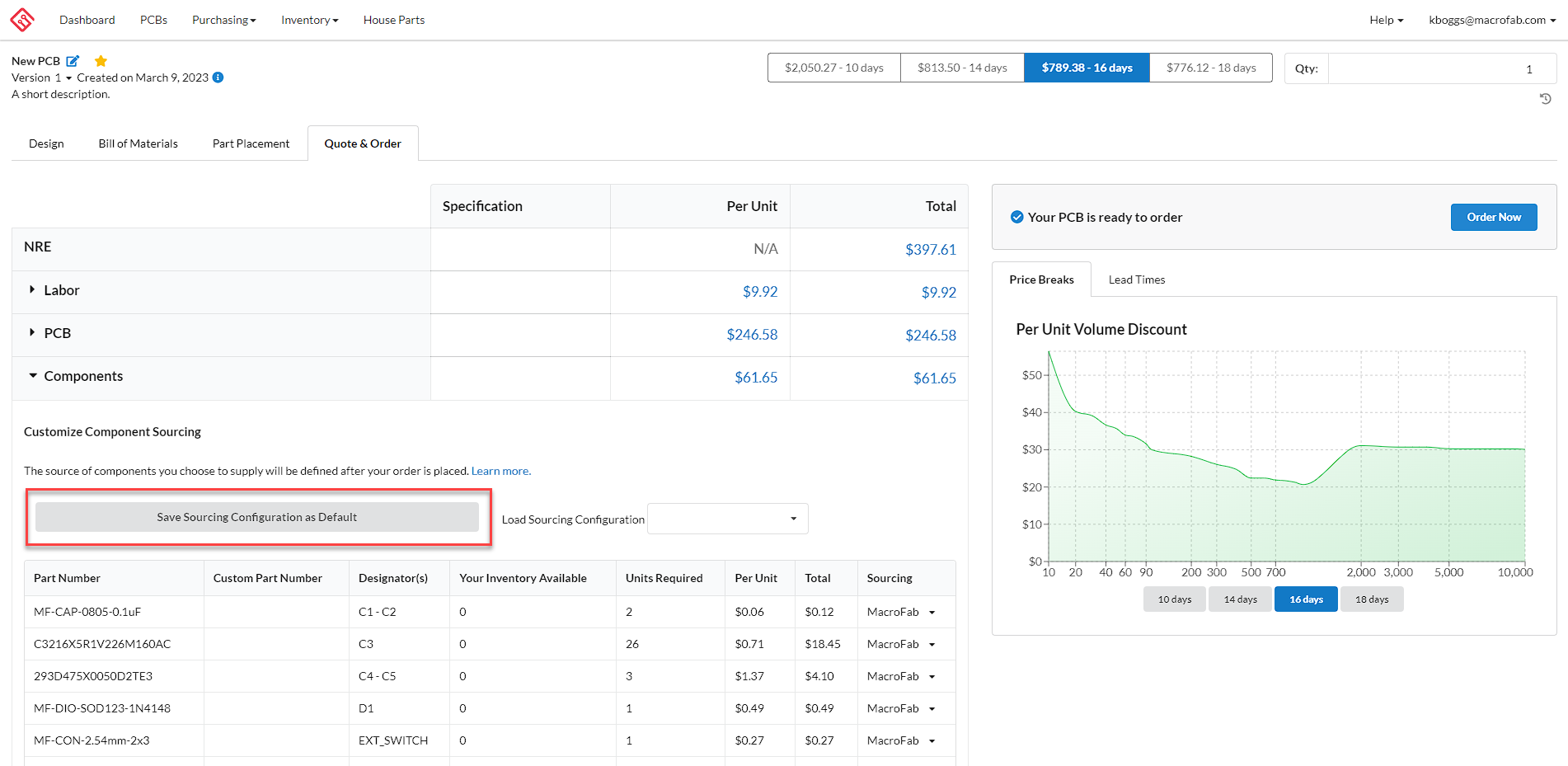 Once saved you can easily load the default configuration by selecting it from the Load Sourcing Configuration drop-down list.
The sourcing configuration from previous orders of this design will also be selectable here.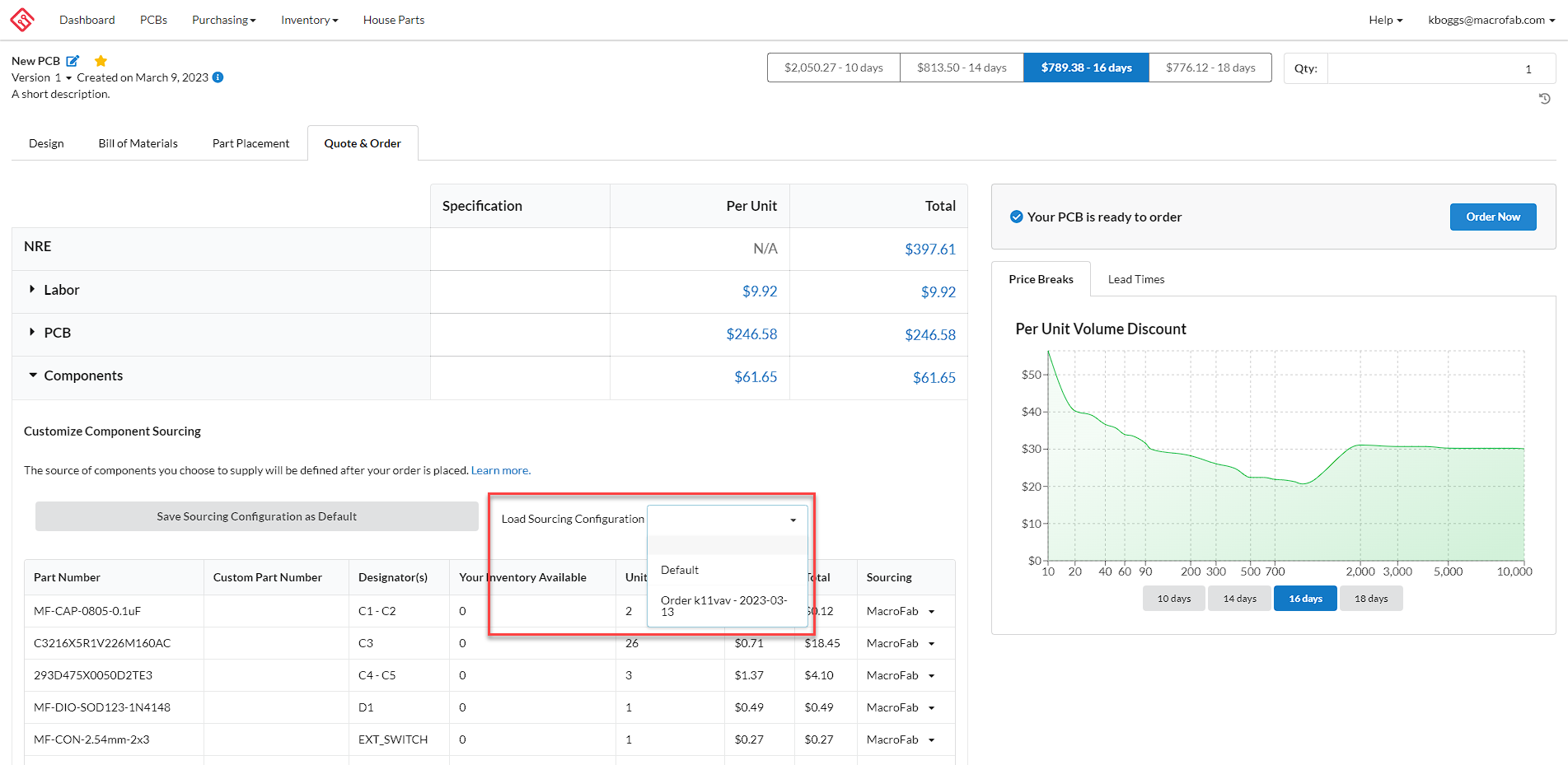 If the order does not contain one or more components with a specified source of Me then your part sourcing definition work is done and you may proceed with placing your order as normal.
If however, the order does contain one or more components with a specified source of Me then you will need to specify whether you will ship (consign) the component to MacroFab or you will pull it from your available MacroFab inventory after you've placed the order.
With this new release, we've streamlined our existing consignment fee into a unified fee to account for all handling of customer-furnished material.
This fee will vary based on the service tier selected and the lead time required.
Parts to Supply
After order placement, if the sourcing of one or more parts was defined as Me, you must now specify if those parts are to be pulled from available inventory or if they will be sent (consigned) to MacroFab.
This allocation will take place on the new Parts to Supply page.
Please note, if your order does not contain one or more parts with a source of Me this page will not exist for the order.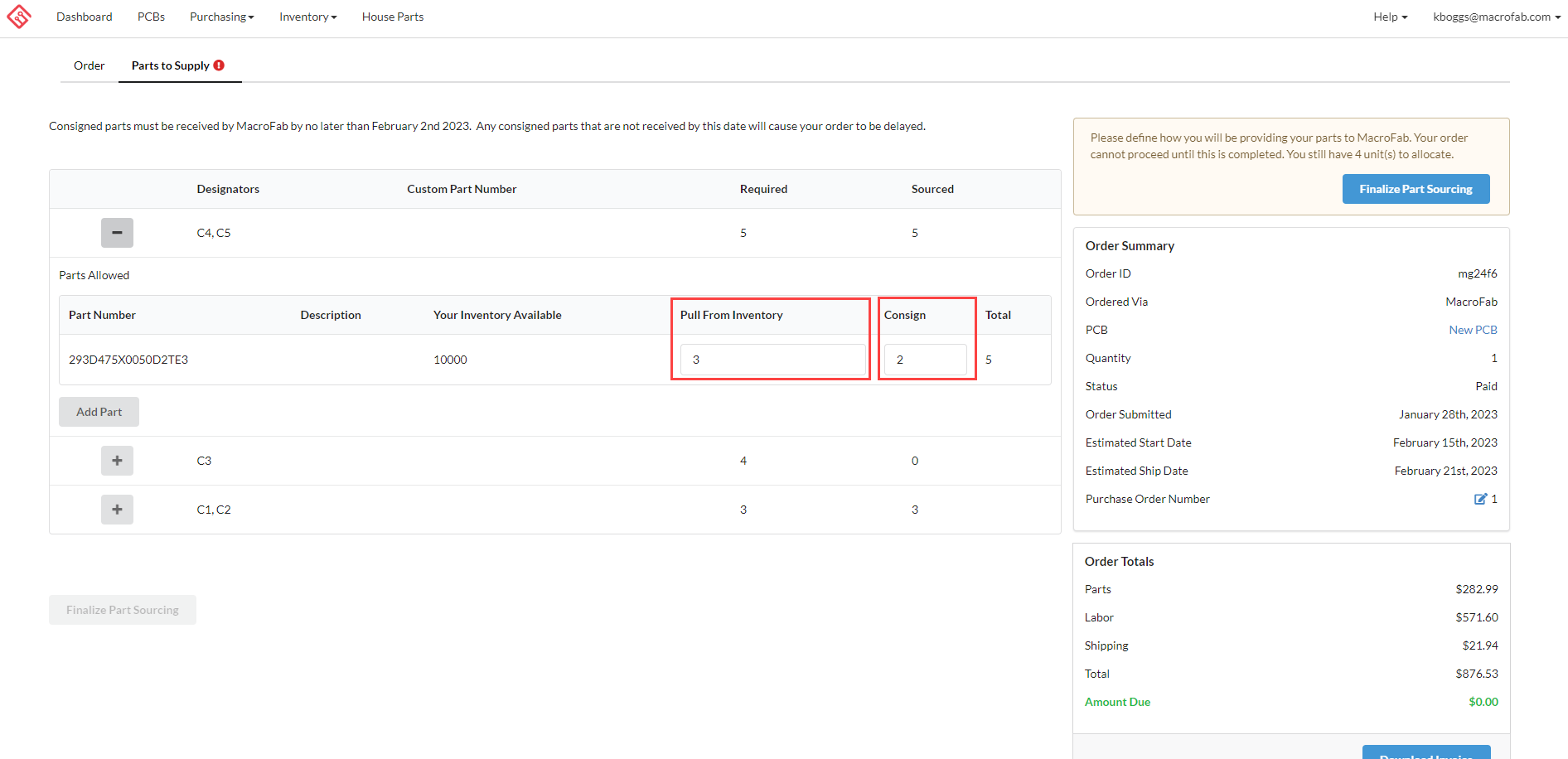 Parts can also be added to your alternate list from this page. Adding a part here will also update the alternate list back on the Bill of Materials page.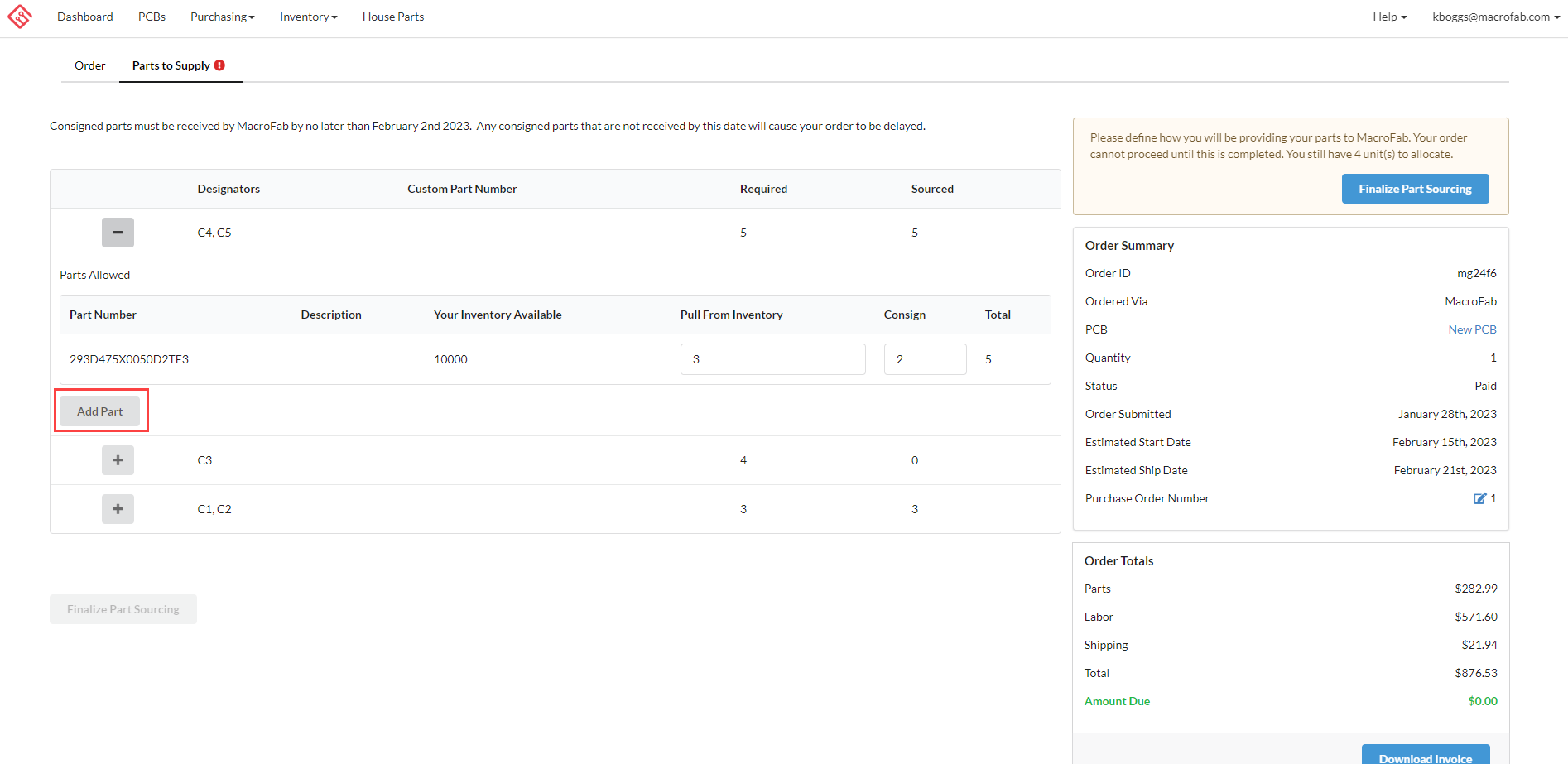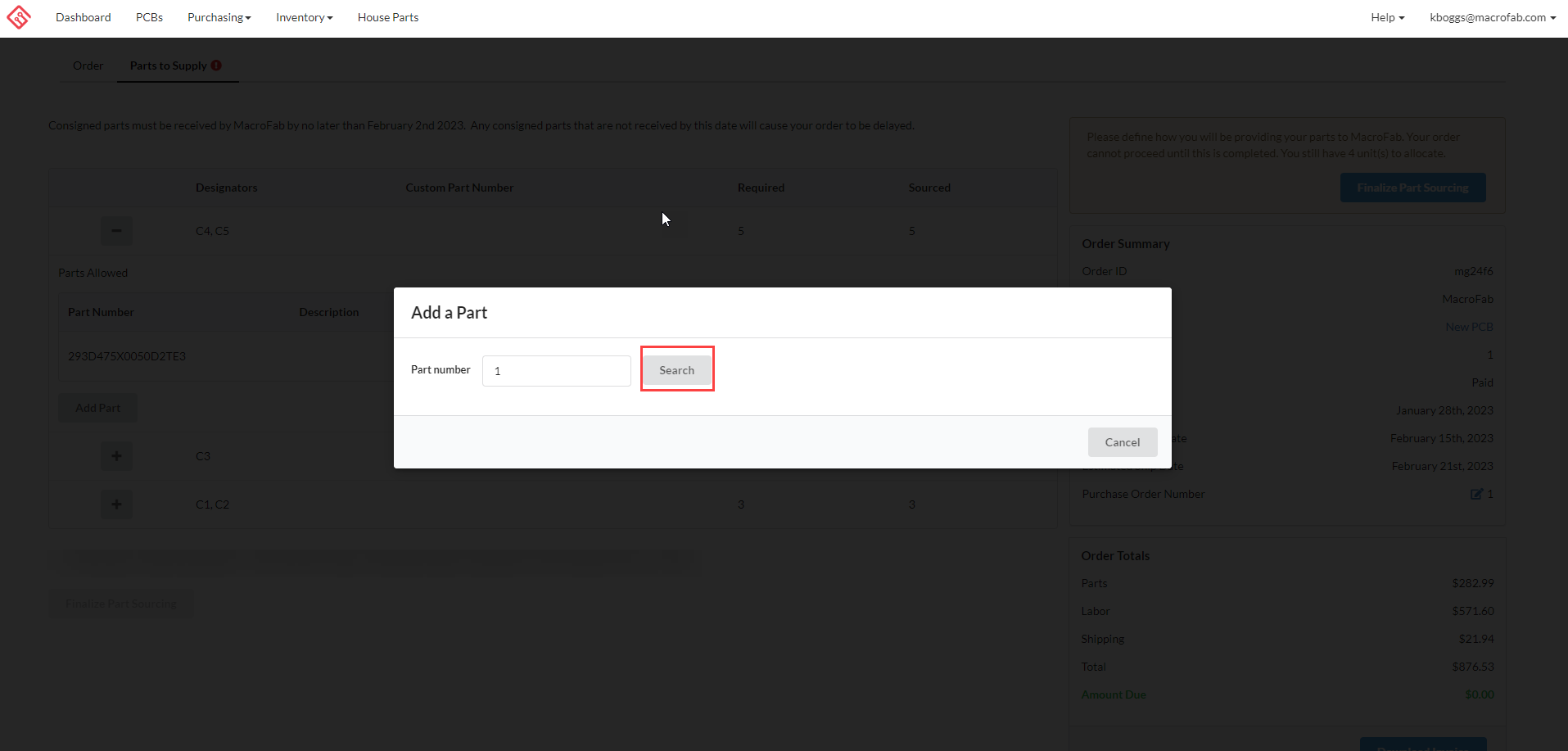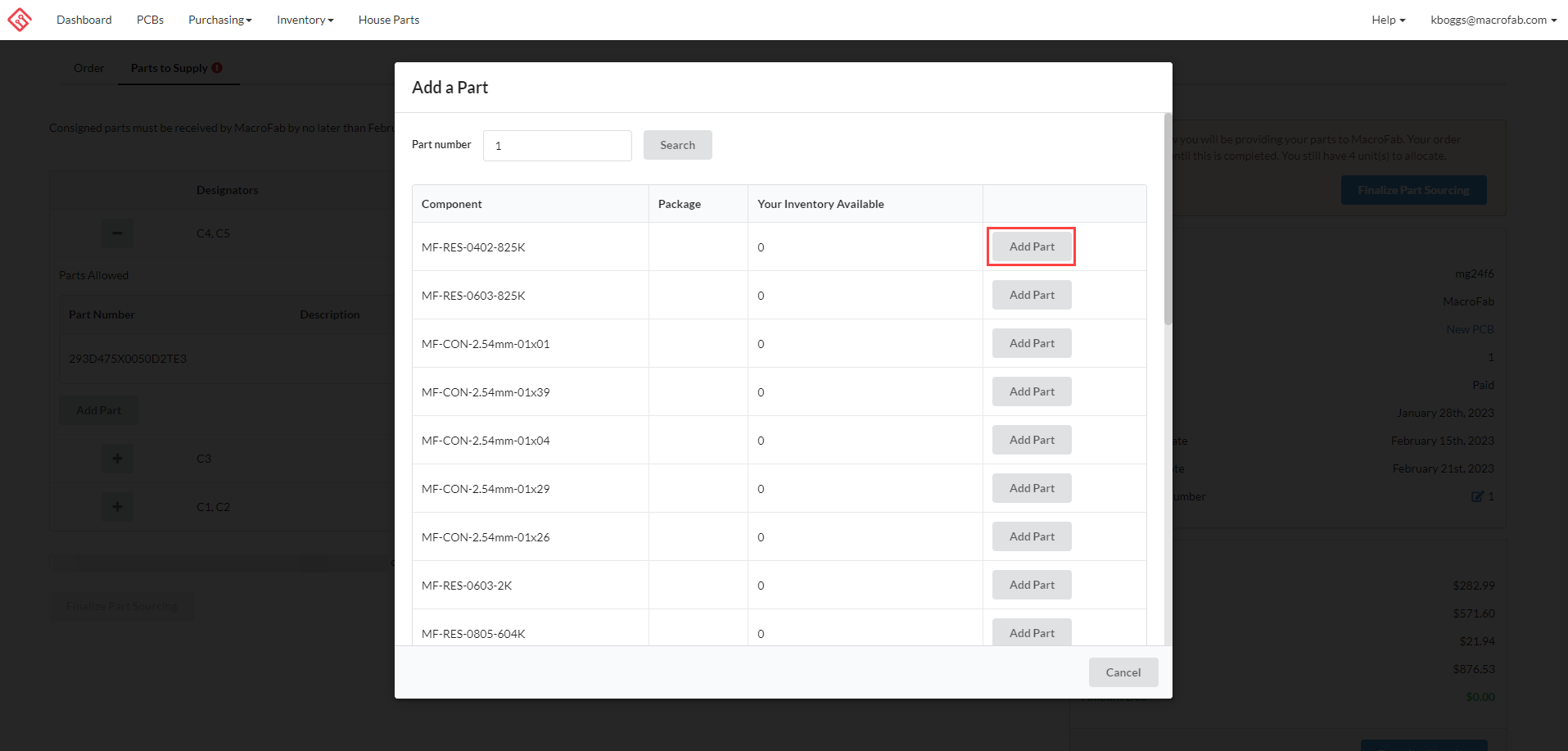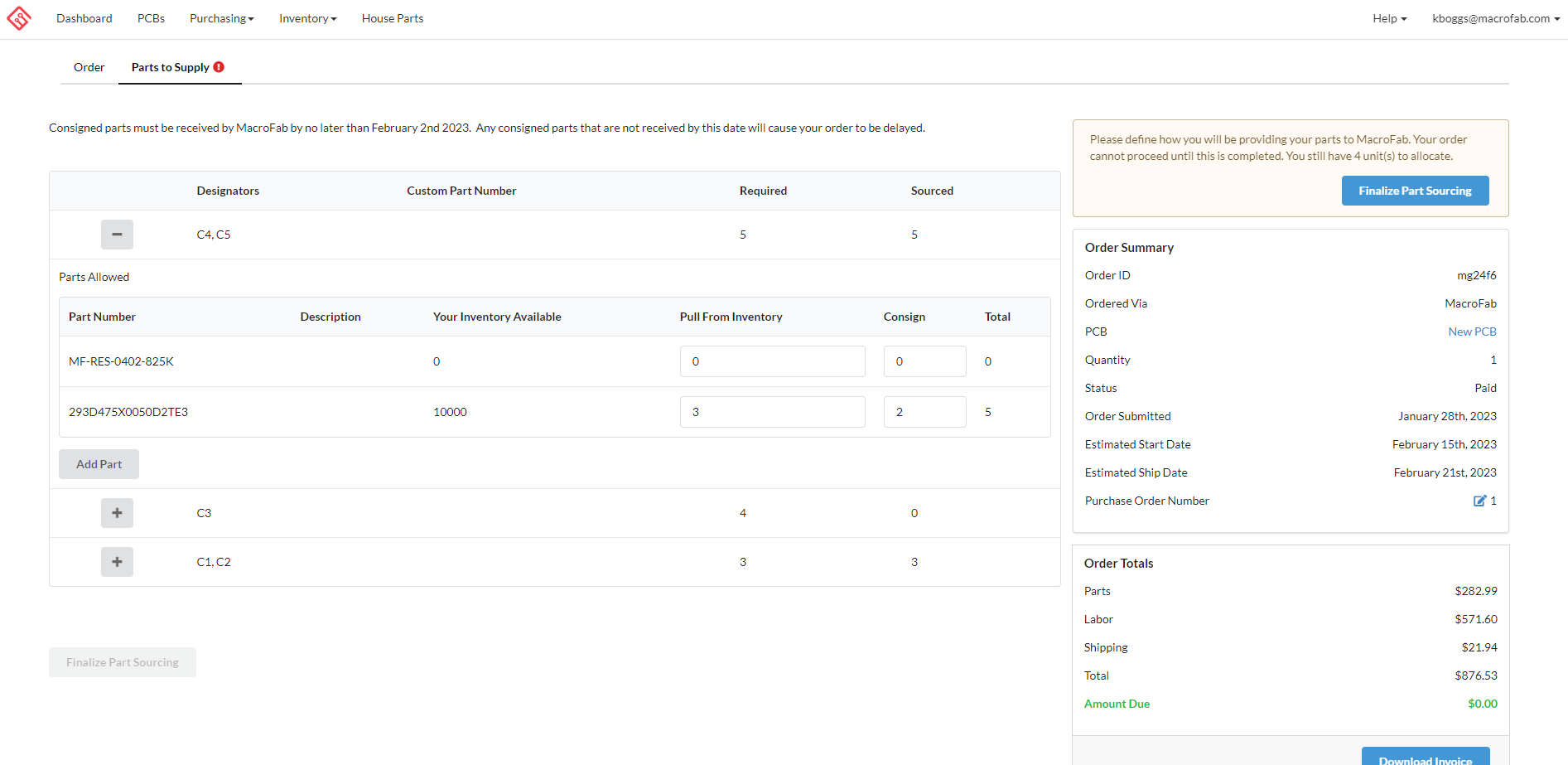 Once you've allocated the required quantity for each designator group the last thing to do is select the Finalize Part Sourcing button at the bottom of the page.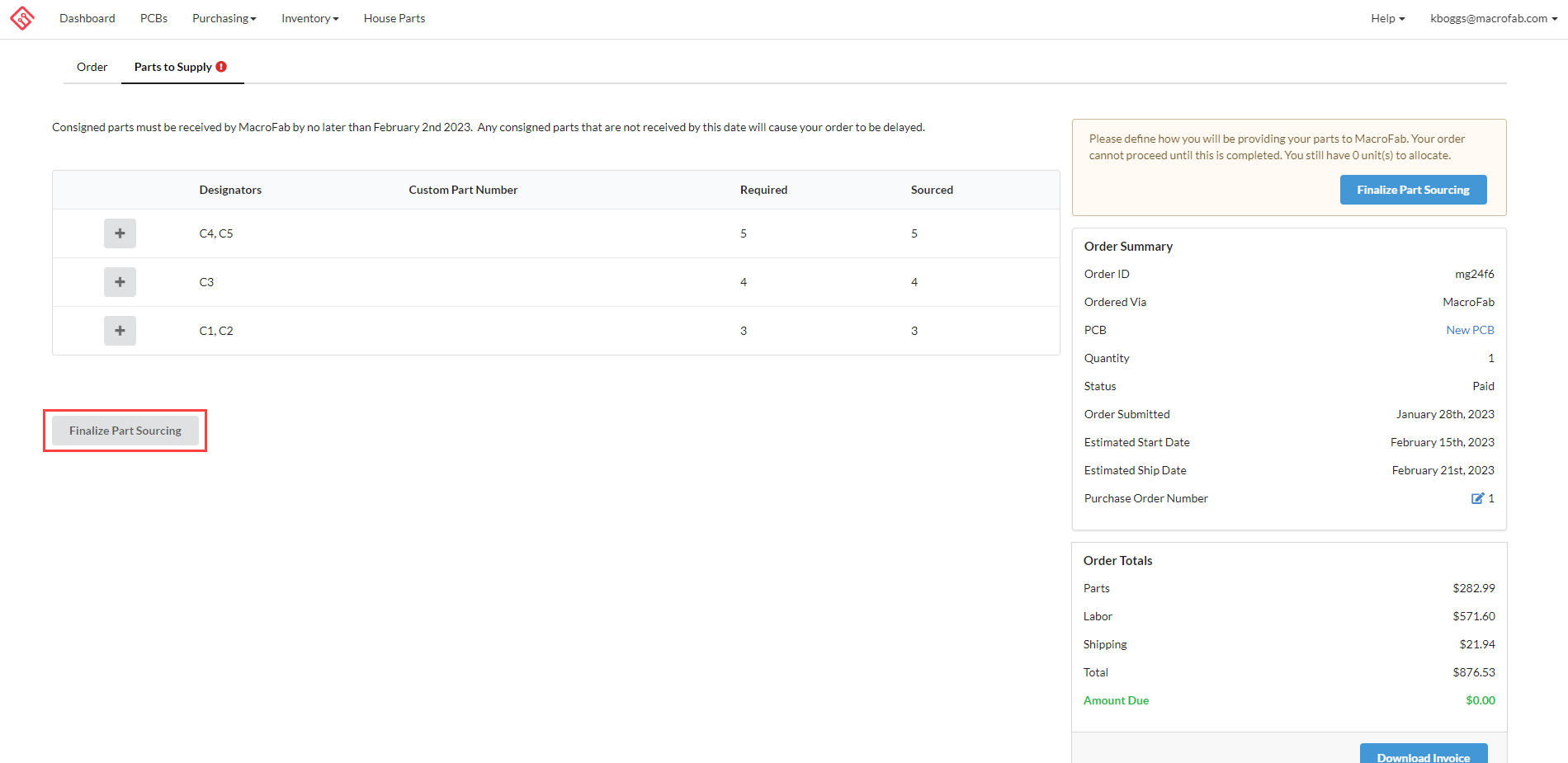 Instructions for consigning parts will be shown (if applicable) after sourcing has been finalized.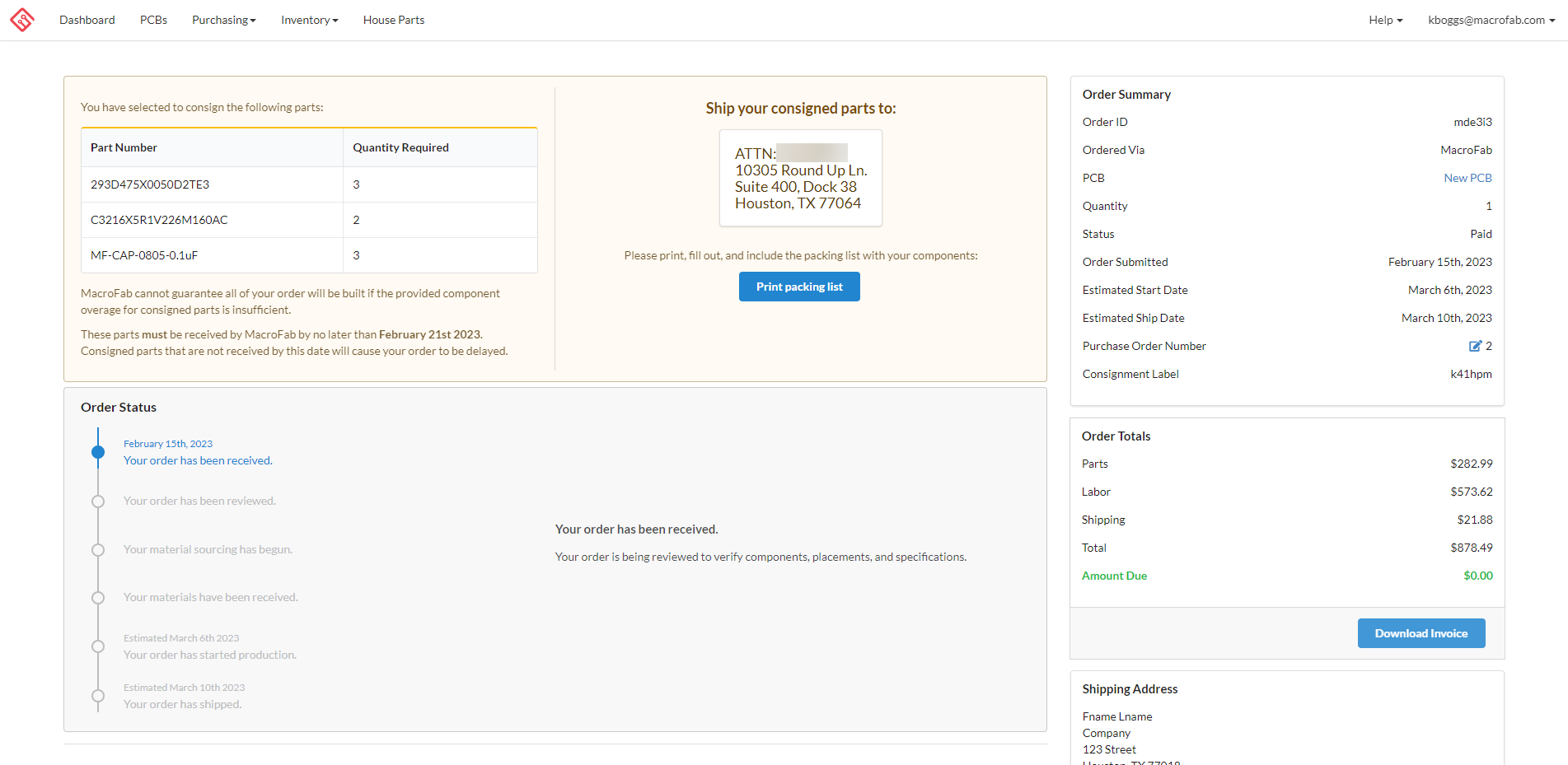 FAQ
What happens to the sourcing configuration of already existing designs?

Sourcing will be set to MacroFab for all parts.

Can I leave the

Parts to Supply

page and come back to it later before I've finalized my part sourcing?
Yes, any edits made to your sourcing configuration will be saved allowing you to pick up exactly from where you left off.

Please note, your order cannot proceed until you've finalized your part sourcing and have sent all consigned parts to MacroFab (if applicable).

What happens if I edit the contents of an alternate list on the Parts to Supply page?

Edits will be reflected back on the Bill of Materials page.

If the alternate list has been assigned a custom part number (CPN) then all designs using the CPN will be updated.

How do I remove a component from an alternate list on the Parts to Supply page?

You can remove components from alternate lists back on the Bill of Materials page.

I marked a part as to be sourced by Me but now that I've placed the order I would actually like MacroFab to source it for me. What do I do?

Please email support@macrofab.com describing your situation and our customer care experts will promptly offer assistance.