Creating and Managing PCB Returns
If you come across a defect or issue with your recent order, you can report and request a return or RMA within the MacroFab platform. Once your order has shipped, the option for 'Create an RMA' will show up in your Order Status window. Clicking this link will start the returns process.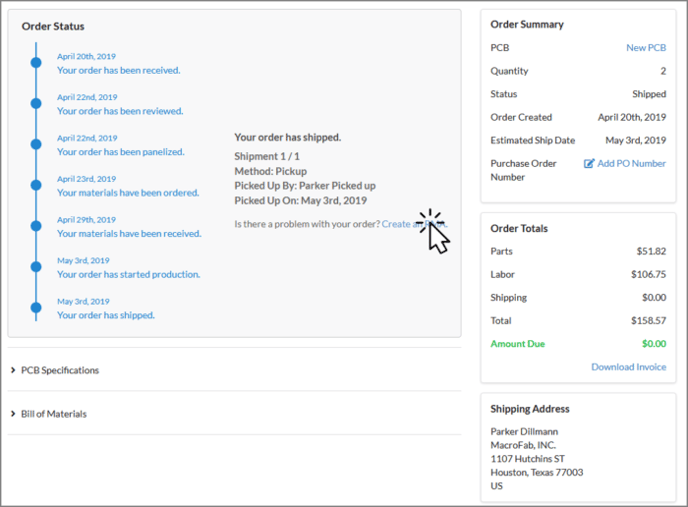 Returning PCBs and Reporting Defects
---
After starting the RMA from the order page you will be able to review our warranty policy, read the instructions for the RMA, and create the return. Click the blue "Create Return" button to move on to the Manufacturing Defect Reporting Form.

On the Manufacturing Defect Reporting Form, you can specify what kind of issue was found on your PCB Assembly, what parts are affected, and how many units. To accelerate the process, please provide a clear image of the problem if possible. Click Submit once filled out.

If you have more problems with the order to report you can Report Additional Defects. Otherwise, our engineering and support teams will review your information and return request. Once the RMA is approved, you will receive an email with a pre-paid return label. Ensure your PCB Assemblies are packaged well in ESD safe packaging. Clearly mark the outside of the package with the Return ID.

MACROFAB
Attn: [PUT IDENTIFIER HERE]
10305 Round Up Ln.
Suite 400, Dock 38
Houston, TX 77064
US
+1 713-300-3591
Additional Support
---
Having a problem with your recent order or is the assembly off? Do you need more help with the RMA process? Contact our customer service team to get the return process started.