MacroFab now allow our users to invite other members of their organization to join a single unified MacroFab Team account.
We now allow our users to invite other members of their organization to join a single unified MacroFab Team account. We have designed the Platform to be flexible enough to support whatever you consider to be a team, such as by department, project-based, or companywide.
Invitations allow you to quickly add users to your MacroFab account so that you can collaborate with the quote m on designing PCBs, ordering PCBs, or managing production releases.
Sending an Invitation to New Users
From your Organization Admin page, click the blue "Invite User" Button.

Once clicked, the following will appear. Fill out your teammate's first name, last name, and email, then designate one or more roles for them. See How to use the Roles & Permissions Manager for details on managing roles.

Both the inviter and the invitee will receive confirmation emails upon successfully triggering the invite. An example of the email for the inviter is shown below.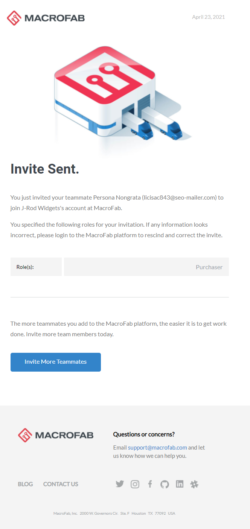 Accepting an Invite
The user who was sent an invitation will receive a similar email to the one below.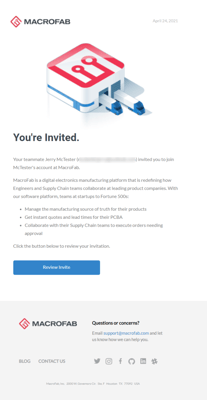 Your teammate can then review the invitation by clicking the "Review Invite" button. Depending on whether your teammate already has an existing MacroFab account under that email address, they will be directed to a distinct workflow.
The Invitee Does Not Have a MacroFab Account
In this scenario, the invitee would be directed to the MacroFab sign-up page, and their email address will already be prefilled. They will need to enter their name and a password to join your MacroFab Team account.
The Invitee Already Has a MacroFab Account
If the user already has a MacroFab account and decides to accept the invitation, their PCBs and other assets will be moved to the new organization. They will be viewable by those with the appropriate permissions. A list of the assets to be moved will be presented to the user before the final confirmation step.

Rejecting an Invite
Users with an existing MacroFab account who decide to reject the invitation will not be added to the new Organization, and their PCBs will remain under their account. Both parties receive an email letting them know the user rejected the invitation.

Revoking or Resending an Invite
An invitation can be revoked from the Organization Admin page by clicking the Revoke button. If the invite is resent, the original invitation email will be resent to the invitee.