Getting Started with the MacroFab Platform
The MacroFab Platform provides all of the tools necessary to ensure that your PCB gets fabricated and assembled correctly. We make it easy to quote turnkey PCB assemblies instantly and in real-time in your web browser, without the need to email or call anyone. Below is a summary of the steps required to order your PCB assemblies today.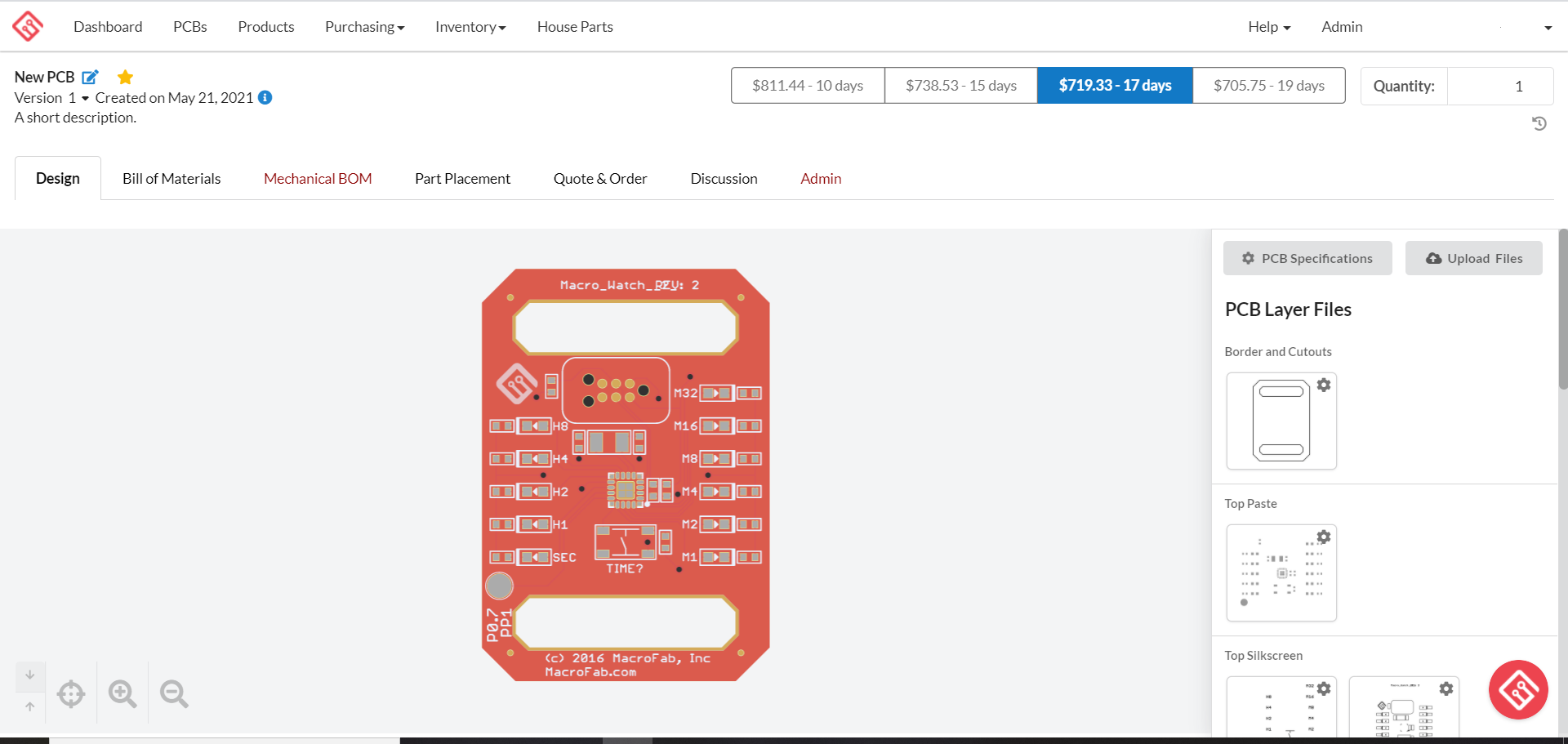 The first step in getting a real-time quote is to collect and upload the design files and manufacturing data for your PCB design. For some EDA software packages, the platform can automatically extract everything from your original design files. For other tools, we can use a combination of design files, Gerber files, or ODB++ packages. Here are some helpful articles that will make it easier to get started: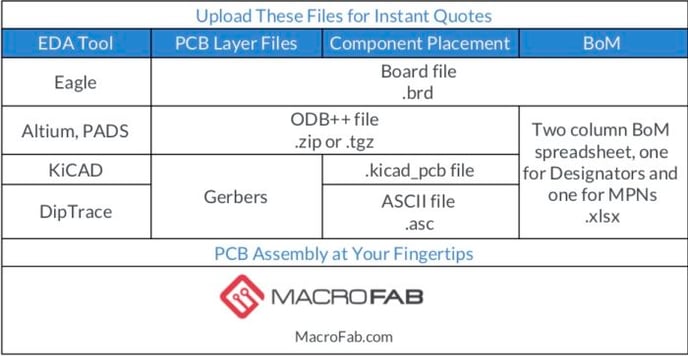 PCB Specifications and Layer Verification
Our interactive PCB viewer makes it easy to look through the different layers of your PCB and verify that every layer has been correctly identified. You can quickly zoom in, out, move around, and turn layers on and off to ensure your board is right before it goes to fabrication. For more information on using the PCB viewer, see the knowledge base article Working with the PCB Viewer. If your PCB has specific requirements like extra small trace widths, special colors, or micro vias, you can customize and tailor the PCB specifications to your needs in our interactive interface. For more information on what customization options are available, see the knowledge base article Customizing PCB Options.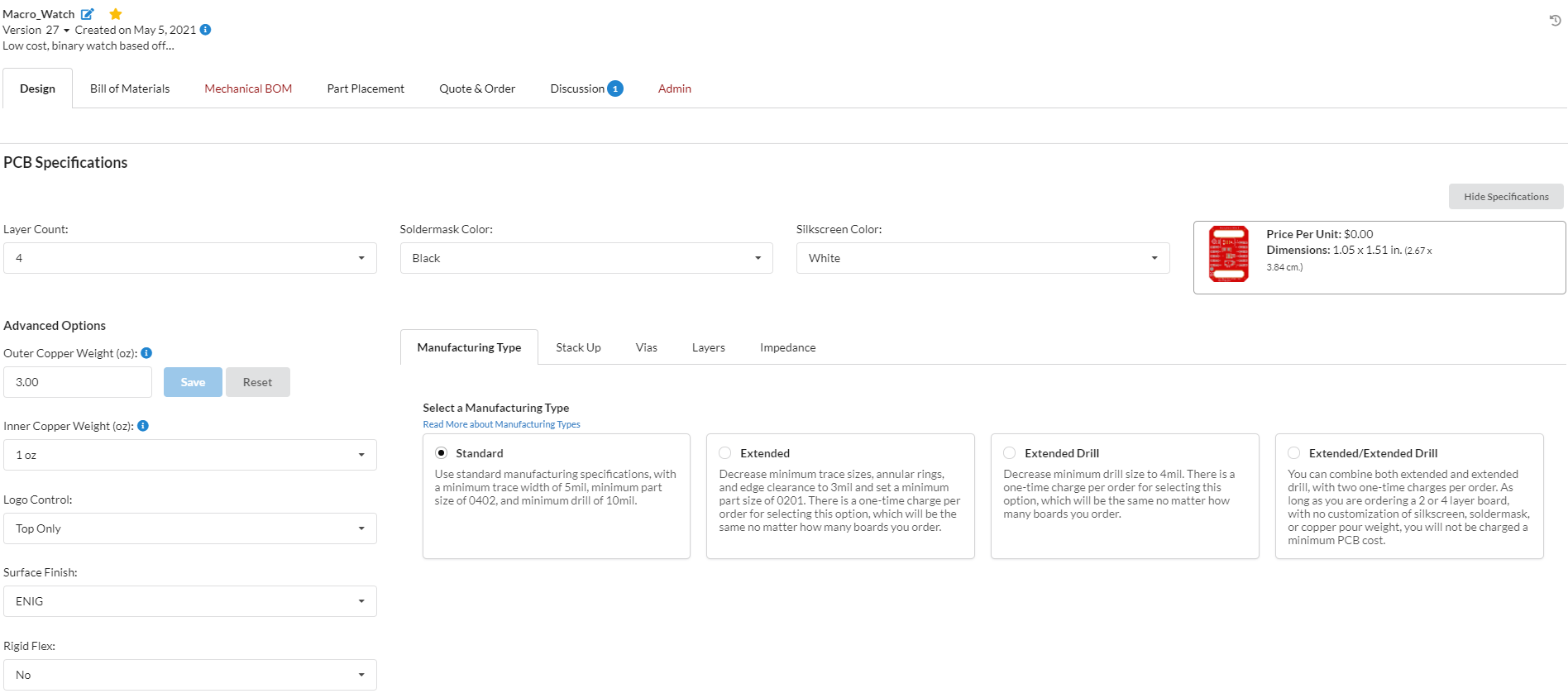 Selecting Parts and Managing Bill of Materials
The Bill of Materials management screen enables you to find the right components for your PCB and see per line item pricing for the materials and placement labor for each component. We will source components for you from Mouser, Digi-Key, or using our House Parts inventory. Alternatively, you can consign materials at order or build from existing materials in your inventory kept at MacroFab. For more information on managing your bill of materials, see the knowledge base article Managing Your PCB Bill of Materials.

Ensuring Correct Assembly
The MacroFab Platform works differently than traditional EMS companies. The information you provide flows directly to our machines and manufacturing lines, reducing lead time and costs to you. The Parts Placement Screen is designed to help ensure your placement data for parts is correct and accurate. You can also place assembly notes for components on this screen if required. For more information on correcting placement, see the knowledge base article The Parts Placement Screen.

Placing your Order
We make the ordering and PCB review process as transparent as possible to you by breaking down the cost of your PCB assembly. The Quote & Order screen displays the costs of the Labor, PCB, components, and NRE for your PCB assembly. Lead time and price breaks for production runs are shown here as well. This will allow you to forecast future scaling up of your product. To help verify your design our platform order screen will alert you if there are any errors or problems with your PCB design files and how to correct them. If all is well you will be able to order your PCB design.

Customer Support
We hope this article helped you get started using our online platform for your PCB assembly. If you have any additional questions, please contact Support. Our industry leading team will get back to you right away with transparent, responsive and informative assistance. We look forward to building your next project!